Details

Written by

Robot Obedience School

Category: Robotic Minivators


  Please follow us on Facebook to keep up to date with our current activities!
The Season
Team Epic learned the importance of water in 2017.
Why Do You Come to Robot Obedience School Robotic Minivators?
This is what Team Epic had to say:
To build
To learn
To be a robotic engineer
To be amazing in robotics
To be a team
To commit
To make new friends
To have fun
To learn new skills
To cooperate
To be innovative and imaginative
To learn about water use
 What a fantastic bunch of kids!
Name That Team!
In the first lesson, the team members were introduced and worked on getting to know each other. The team also brainstormed for team names, before voting to select "Team Epic!" The next step was for each team member to draw up some artwork for the team name, and then everyone voted to select the team logo. The final artwork was drawn in Inkscape by the team coach, keeping with the graphic elements designed by the team members.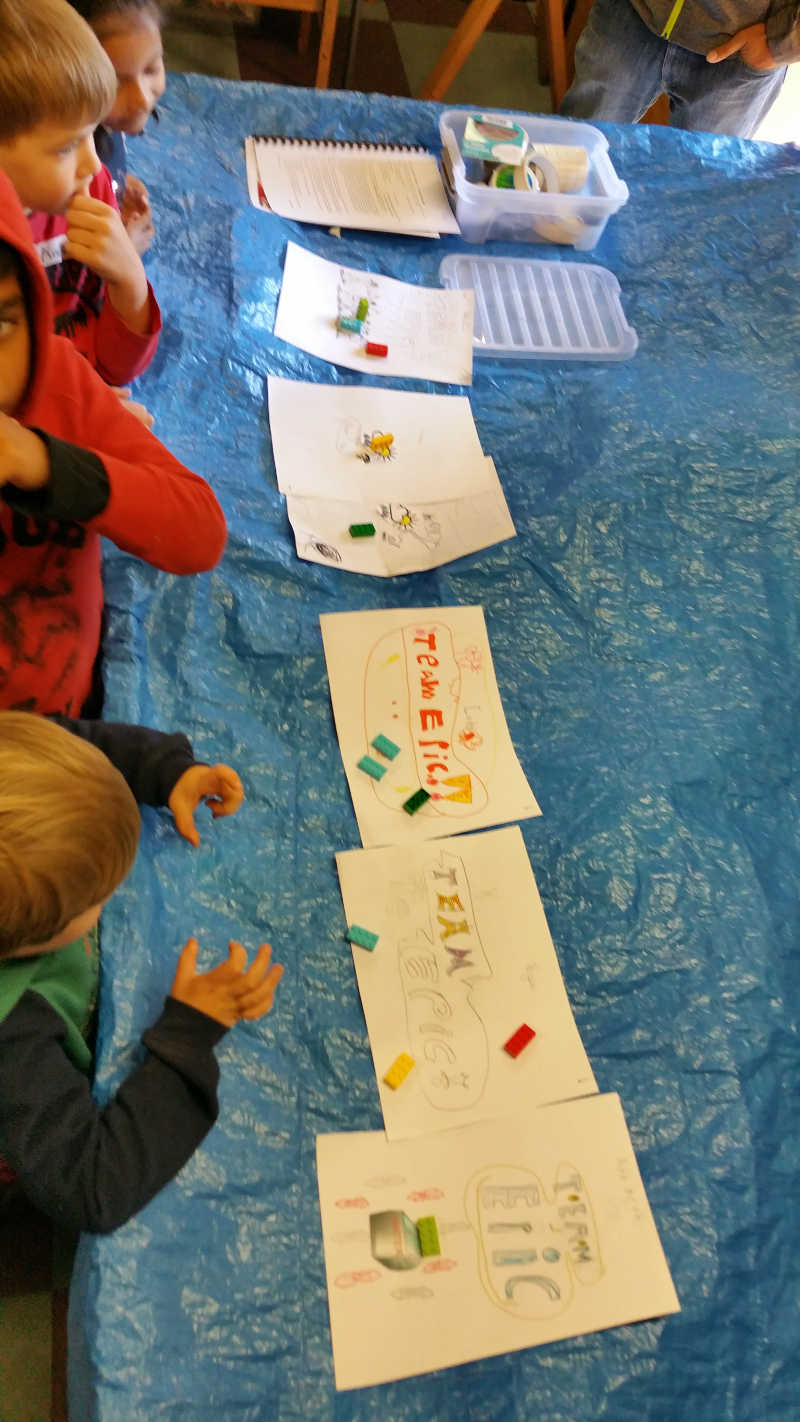 The PlayPump Story
The students learned about the PlayPump, a system for providing water in remote places where water access is difficult. The kids were amazed at the innovative solution to the water problem. They also learned about what happens when people have only dirty water to drink, and what happens when the water must be fetched from a long way away. The team learned how lives are changed, particularly for the girls, by the provision of easily accessible safe drinking water.
The team was also very excited to build the inspire model, which is a working pump! The students build together, with each team member having a defined role: piece finder, builder, checker. This fosters teamwork. One of the things that the students discovered is that the motor must turn in the correct direction to pump the water, otherwise the pump will jam. They learned how to program the pump motor to turn in the correct direction.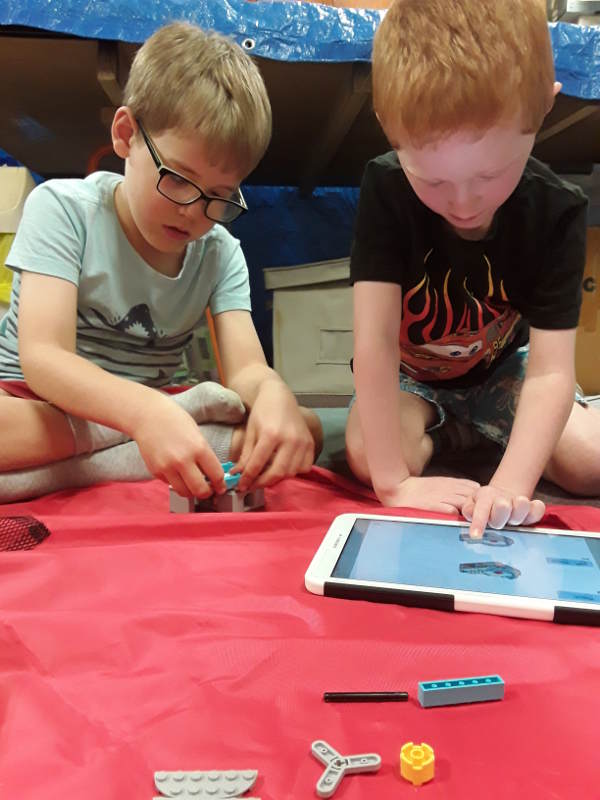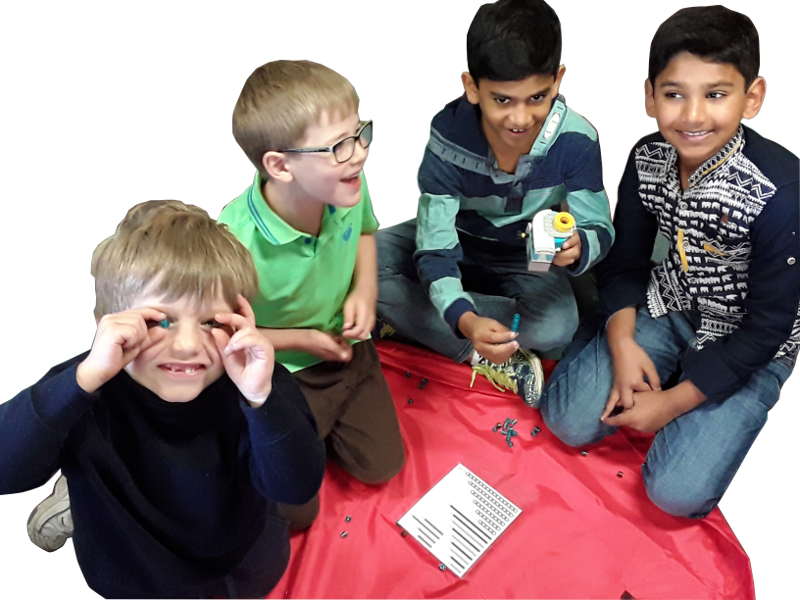 Choose Your Water Use
The team talked about the various ways that they had all used water that day and the day before, to make a list of various water uses. From this list, each team member chose one water use and built a small model to illustrate this use. After 5 minutes of building, each team member shares what they have built with the group, explaining their model. This process is used many times to build communication skills. The team then voted to select one water use to focus on, and came to select watering the garden.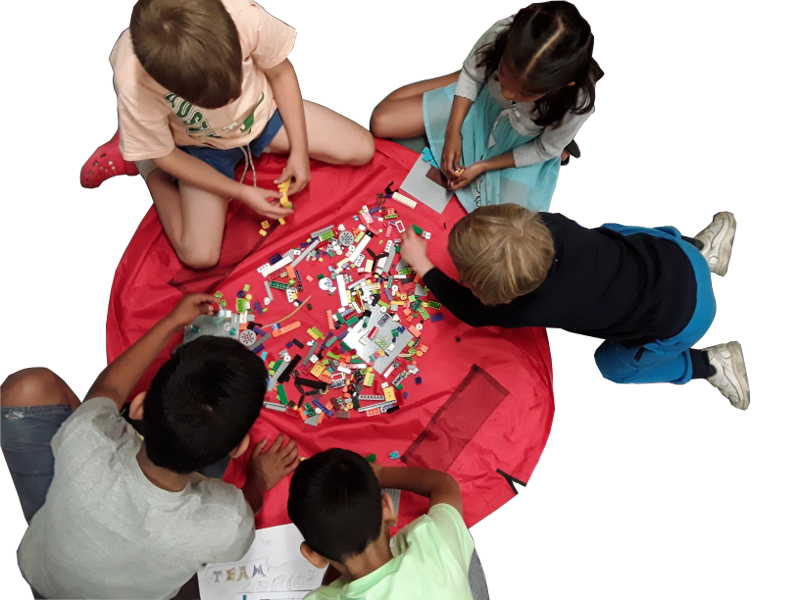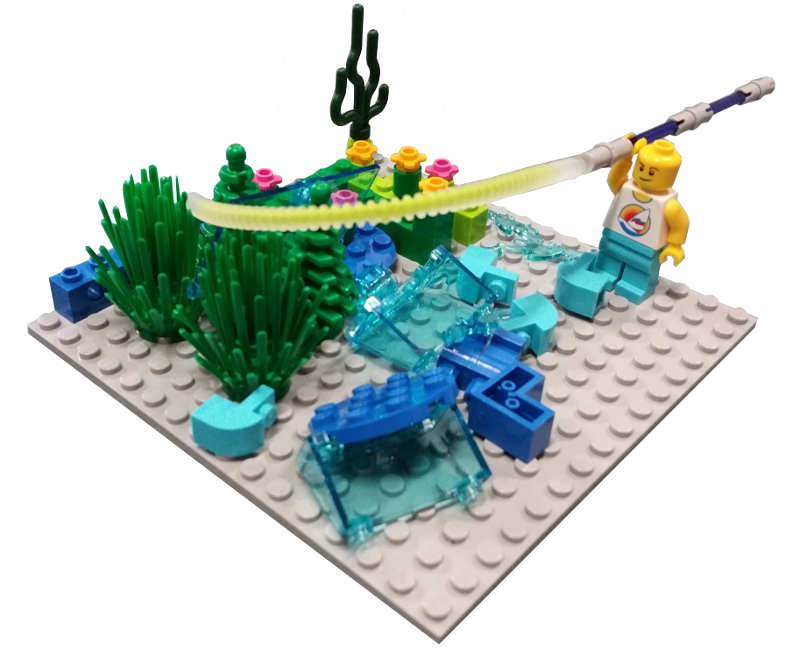 The team built Milo the Science Rover. They really enjoyed this part, especially when they used programs to bring Milo to life! They particularly enjoyed discovering that the coach is afraid of Milo the Science Rover, and so they started to drive Milo to chase the freaked out coach around the room!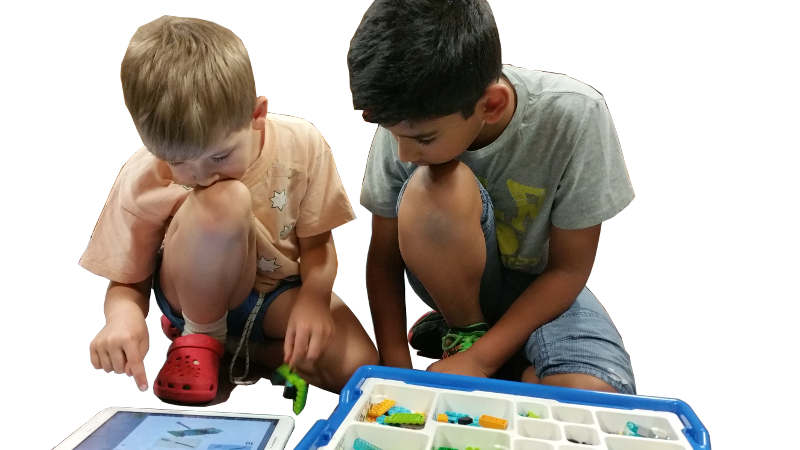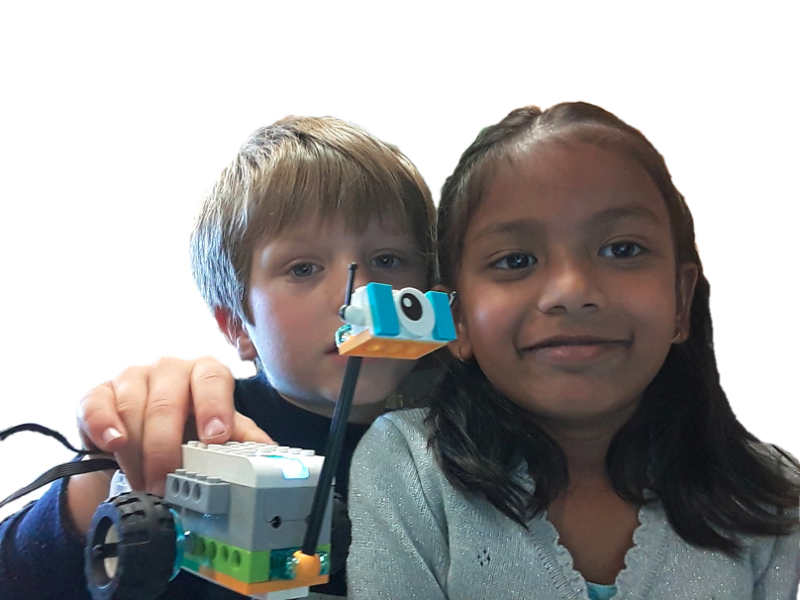 Follow Your Water's Journey
The team learned about the technologies used to capture, transport and purify water on its journey to them at a high level.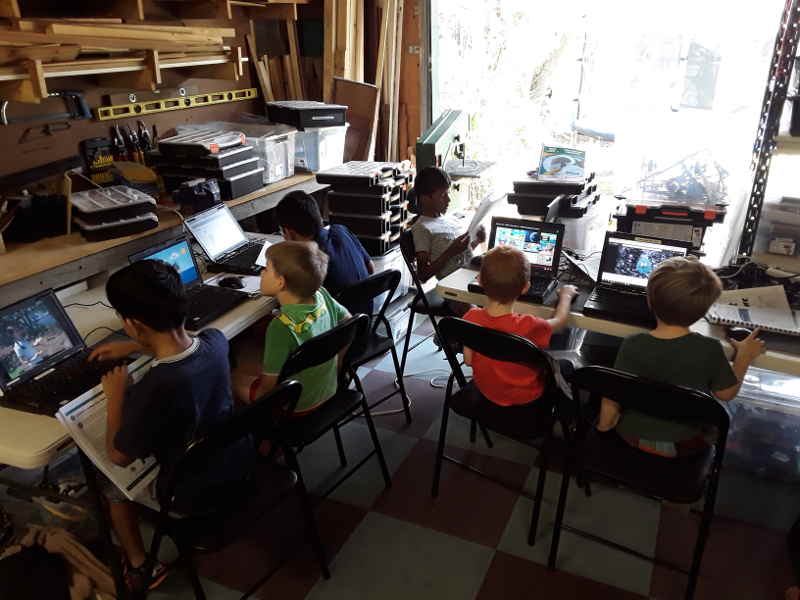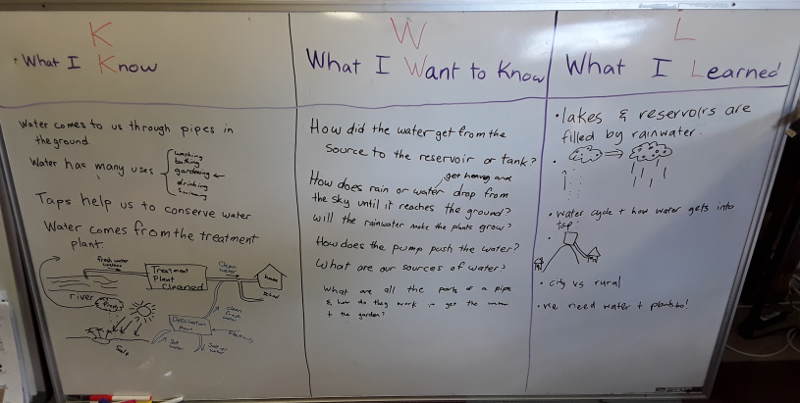 The team also worked to improve their Milo rovers, by adding a switch that controls the direction that it moves. They had to alter their program to make the switch have the required effect!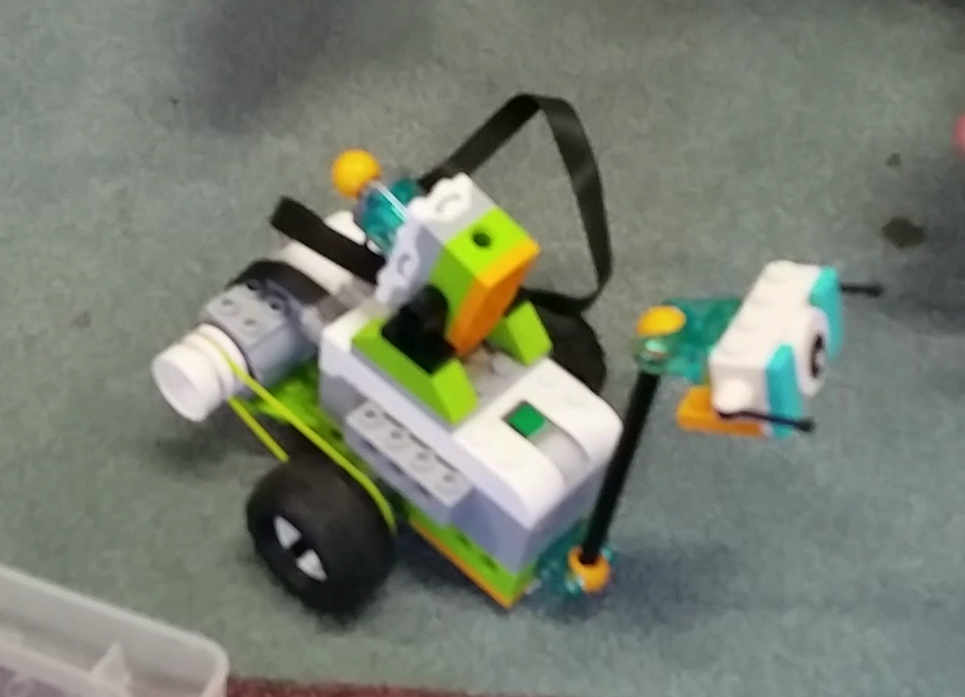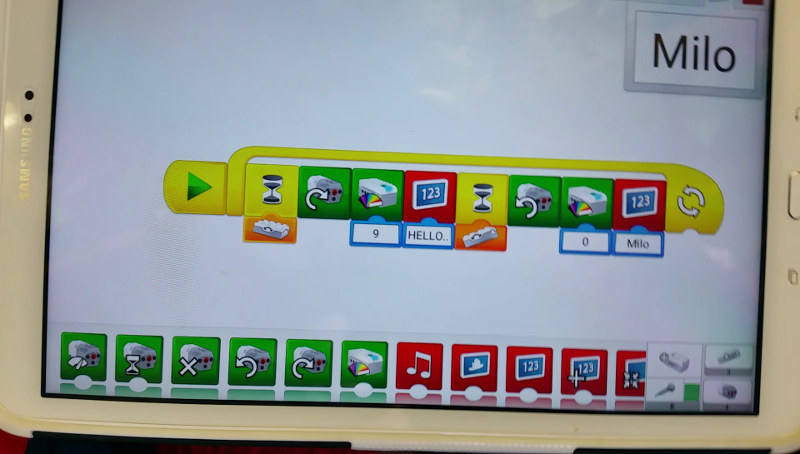 Our Robotic Minivators team mentor, who is also a member of our Team Robotic Innovators, found that he was able to combine multiple motorised pumps into a crazy fun contraption that spits out water droplets after a tangled journey!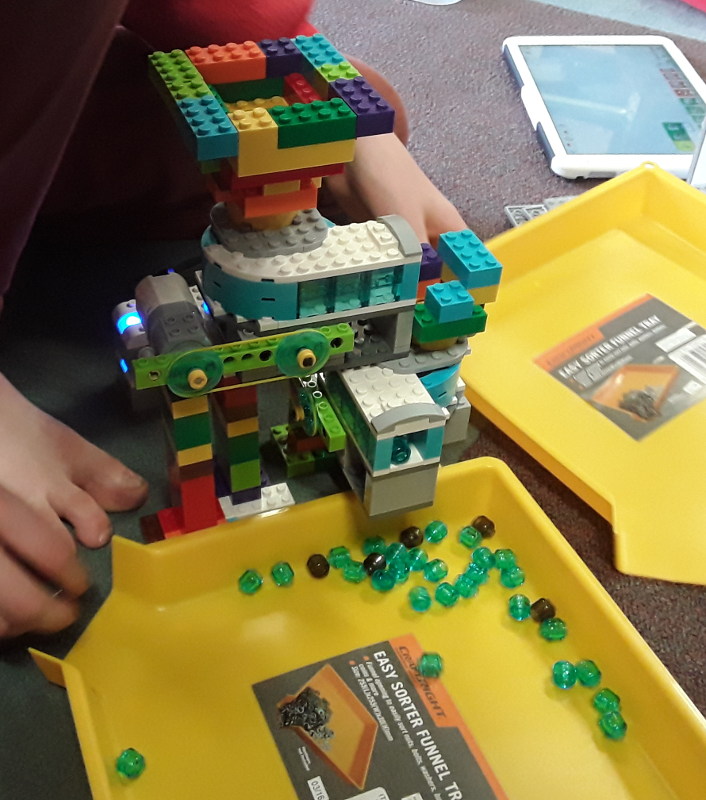 Be An Engineer
Students learned the Explore -> Create -> Test -> Share process. They explored the problem of trying to pump water droplets 15cm from the pump output. A few solutions were explored, and one was created and tested. The students worked very hard to get this together.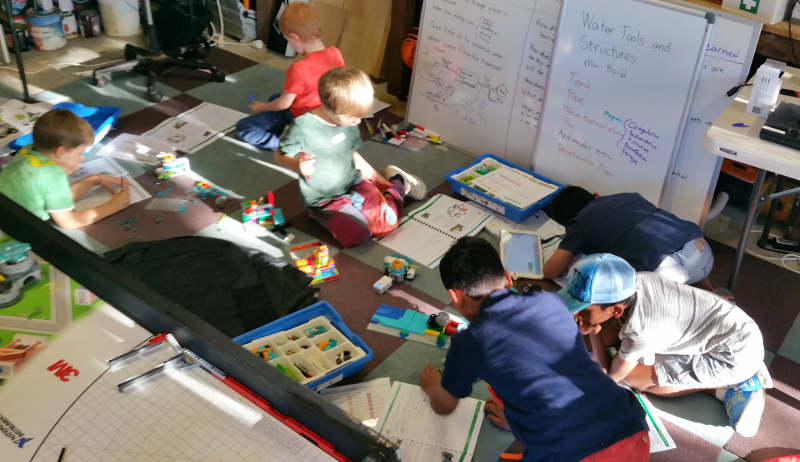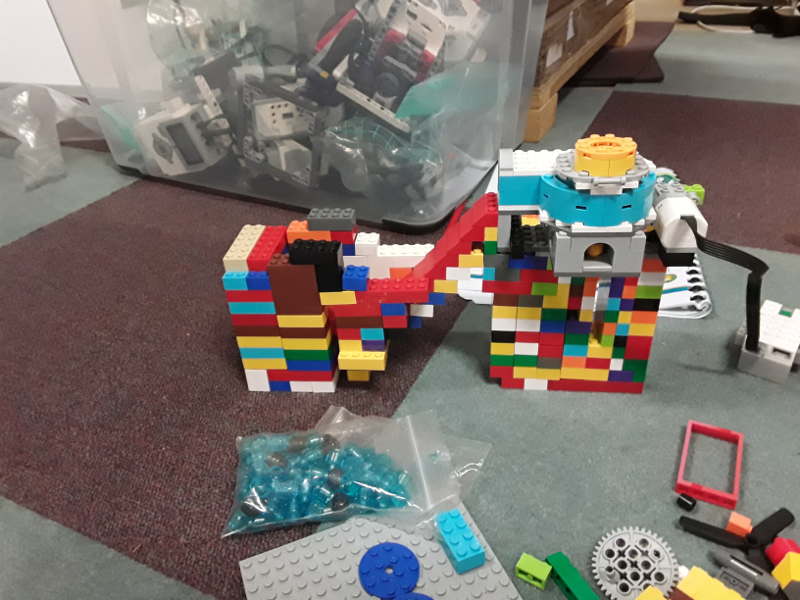 Improve Your Water's Journey
The students studied water waste, and did a build on ways that people could use less water. This build shows a garden sprinkler system being checked and repaired so that it works properly.
The team also brought together their research into existing solutions, and brainstormed for new ideas. The flexitanium hose idea first appeared during this session.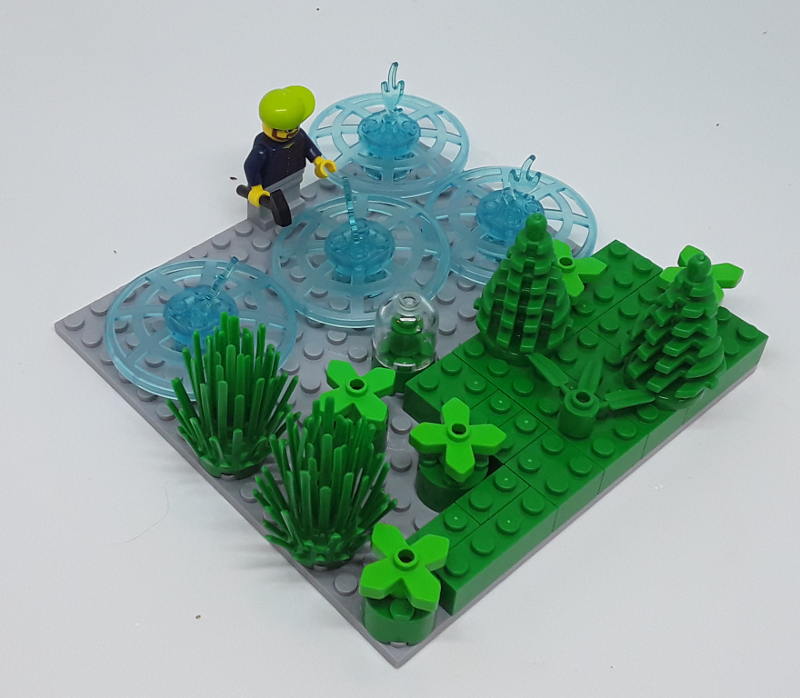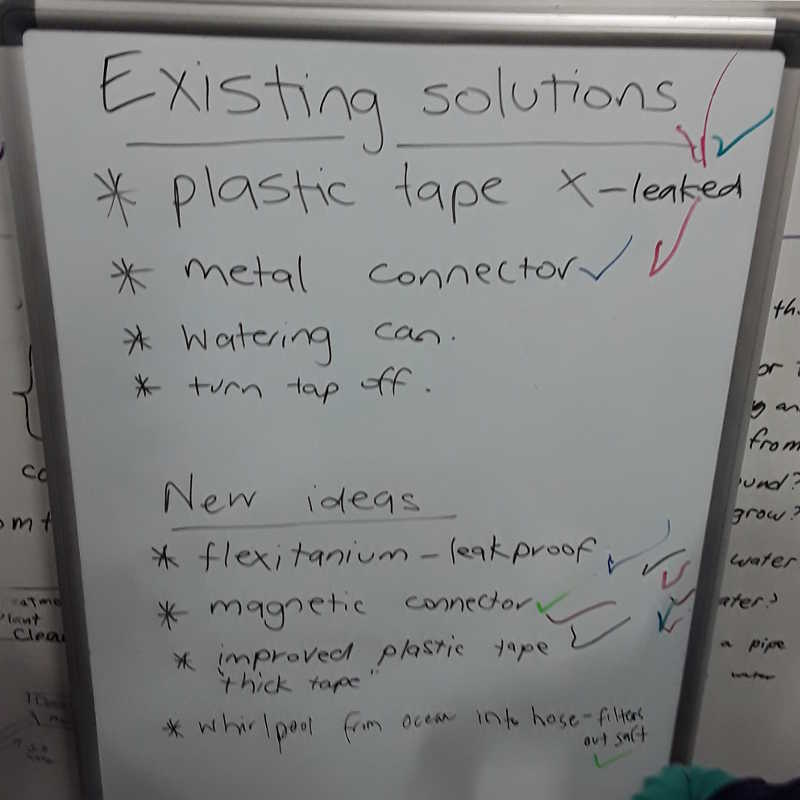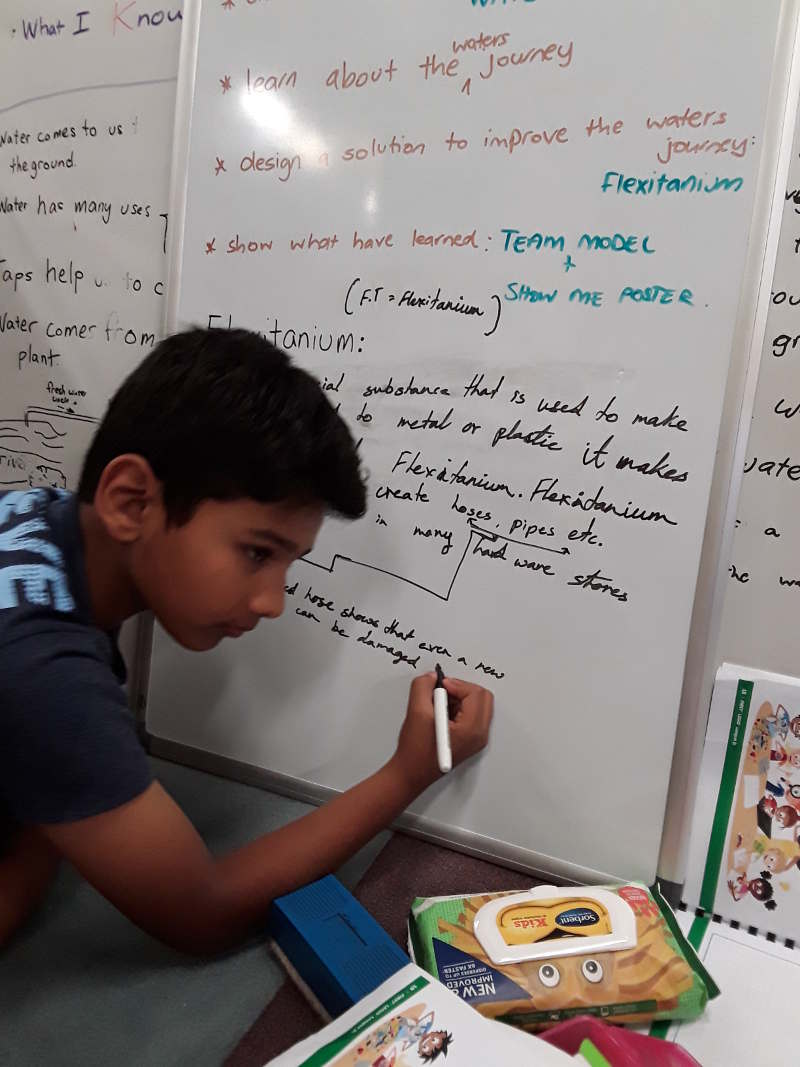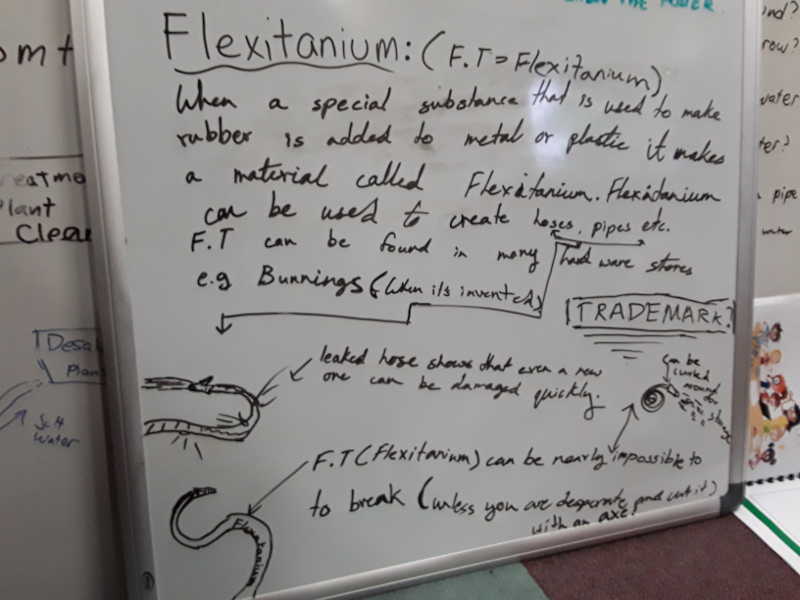 Plan Your Team Model
From this point we turned from learning to planning our team model to communicate what Team Epic! had learned. The team got busy constructing the elements that would be required. We also discovered that one team member was afraid of the Robot Obedience School mascot! We are pleased to report that she got over her fear by the end of the season!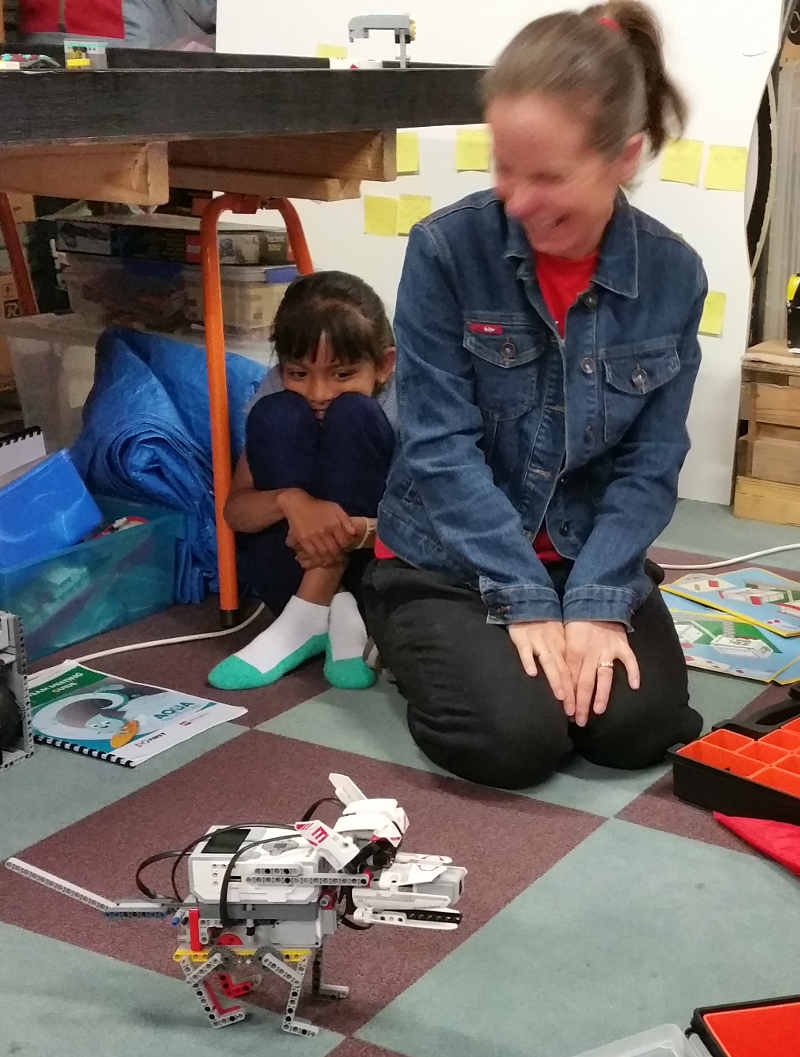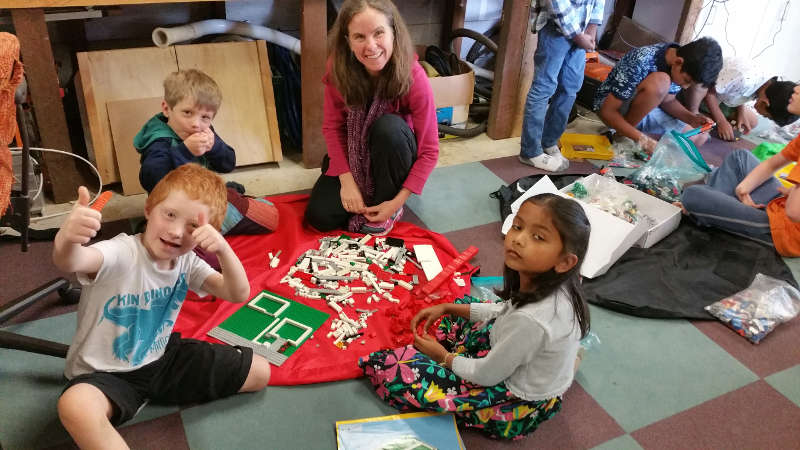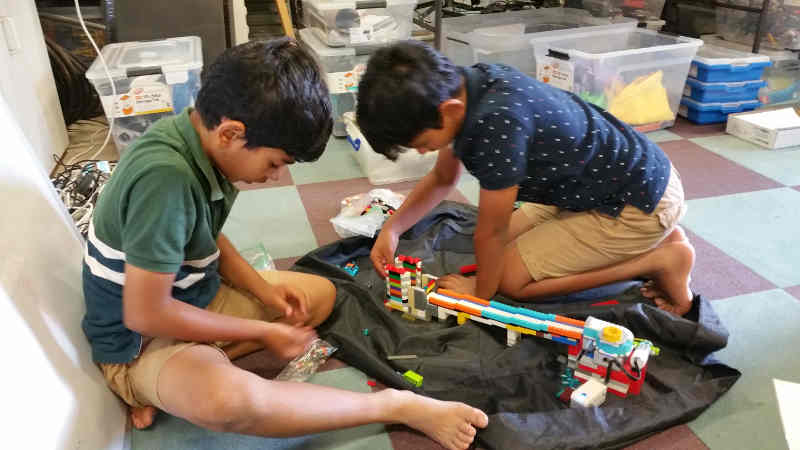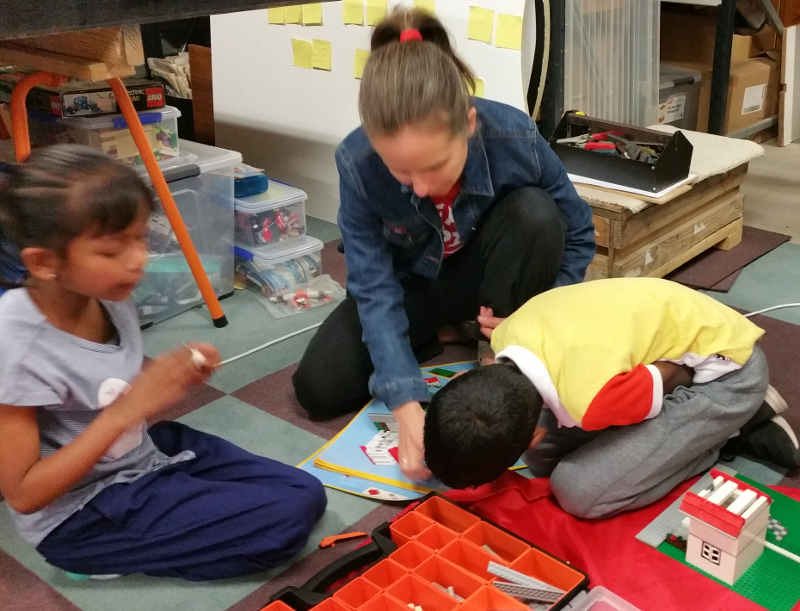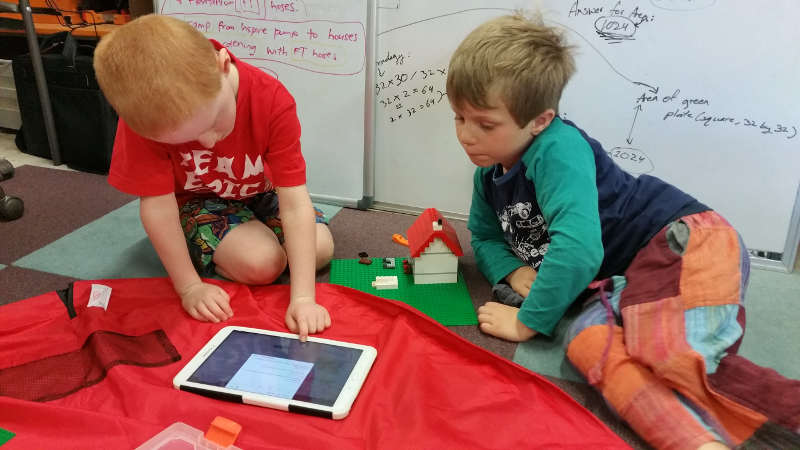 Build Your Team Model
After two frantic sessions of building, the team model was completed. The team were very proud of their accomplishment!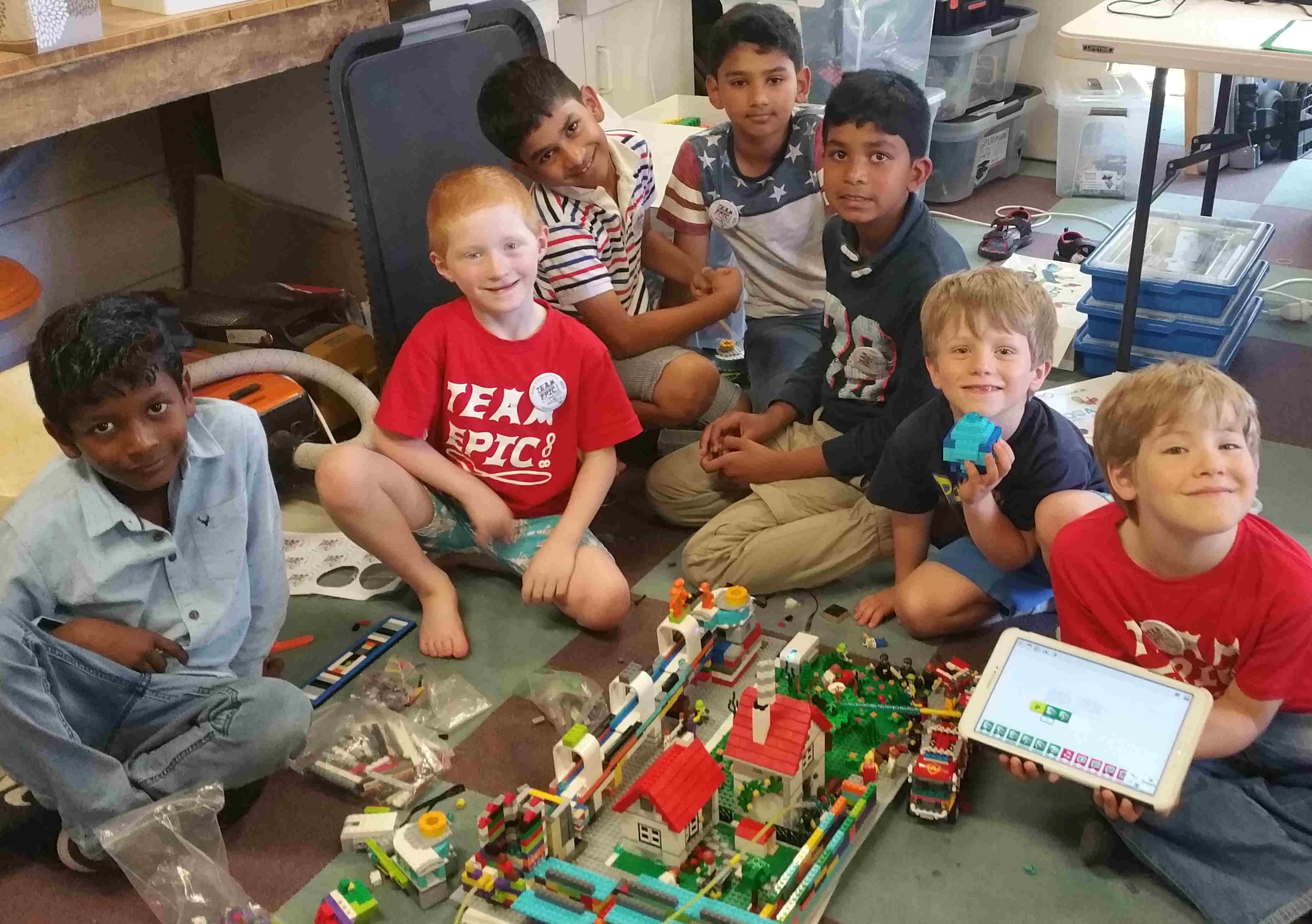 After completing the team model, we had to test that it fitted in the box to take it to the expo. The students got the idea that it would be cool to see if they would fit in the box too, so most of them had a turn trying it out just for fun! Things aren't all serious at Robot Obedience School!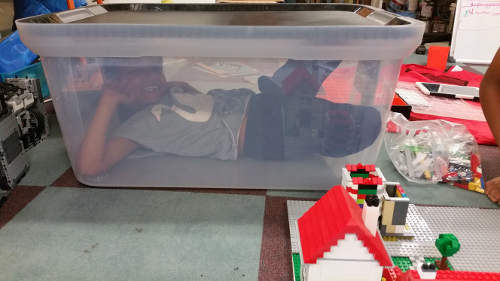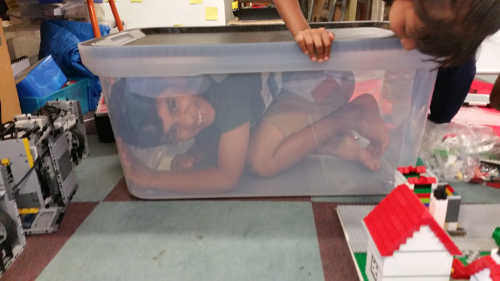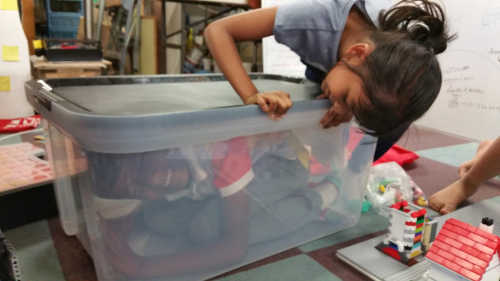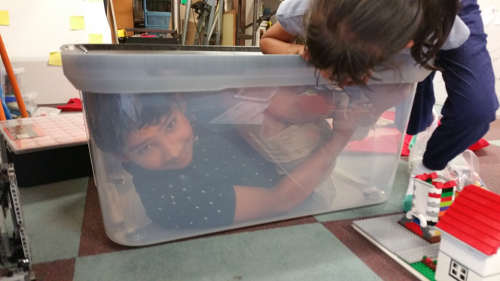 Make your Poster
The team started planning how the poster would look before doing any work on it.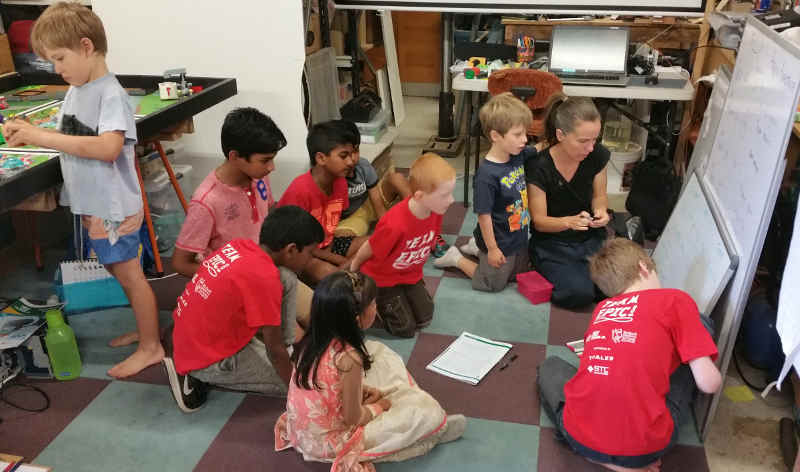 Prepare to Share
When the poster was completed, there was just a brief time to practise sharing what the team had learned over the season. What an amazing team model and Poster Team Epic has put together!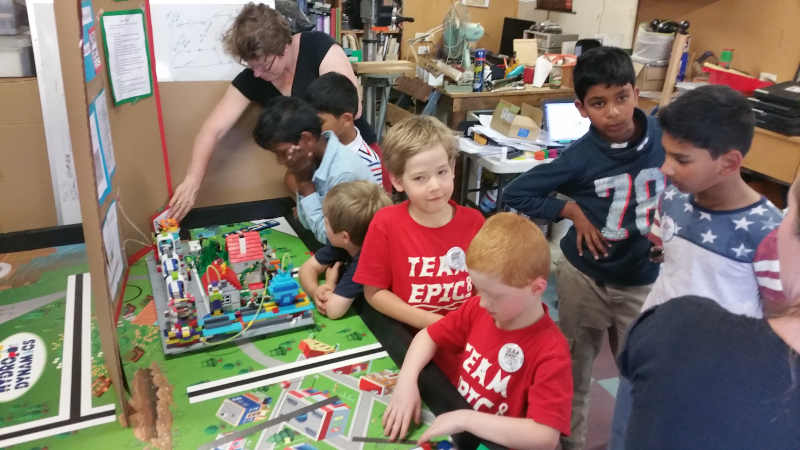 Expo at Macquarie University
The day of the Expo came all too quickly, but Team Epic! were ready!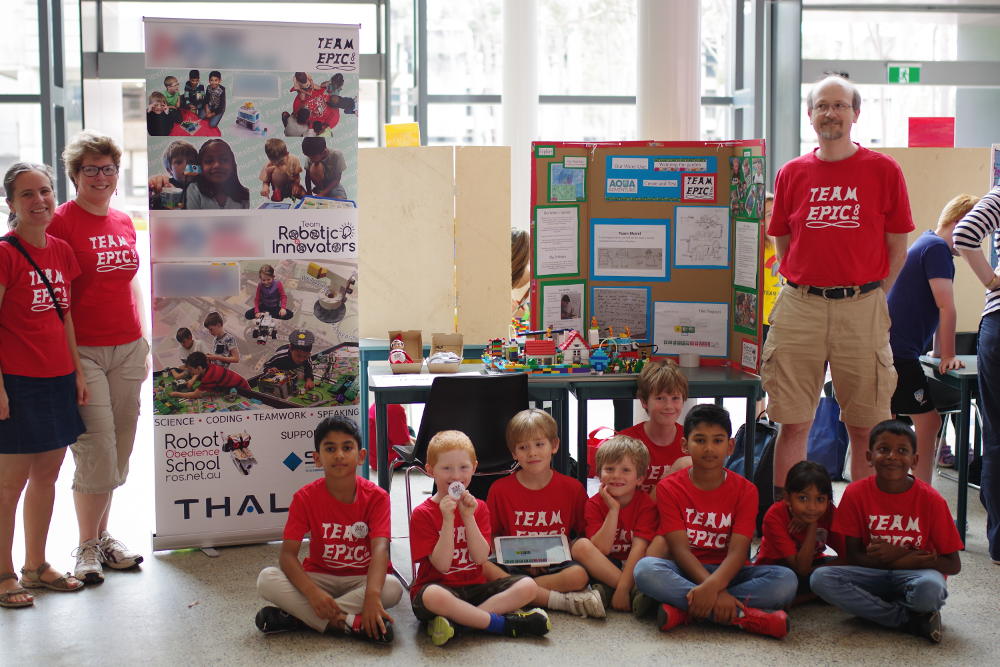 The team model showed the team's chosen water use: watering the garden, and how the water gets there. The model also includes flexitanium hoses that don't leak.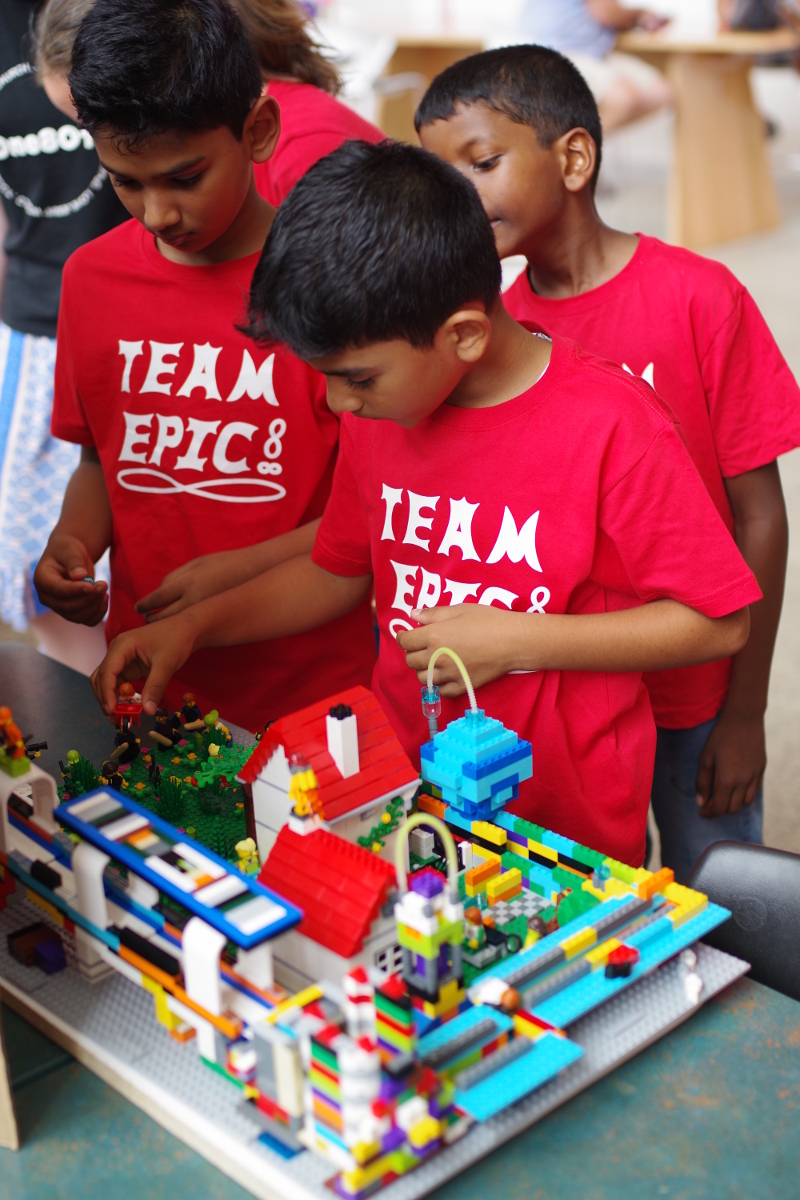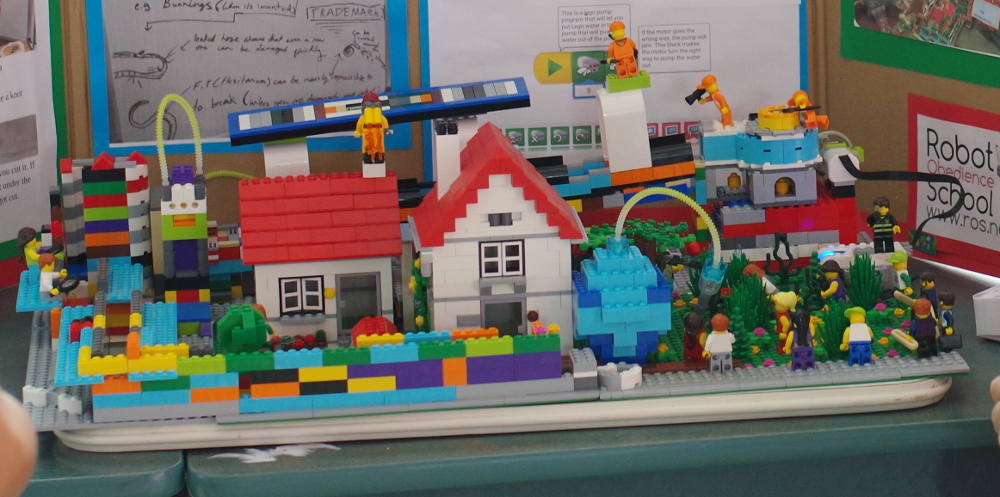 A team member explains the model and the poster to visitors, and the general scene at the expo.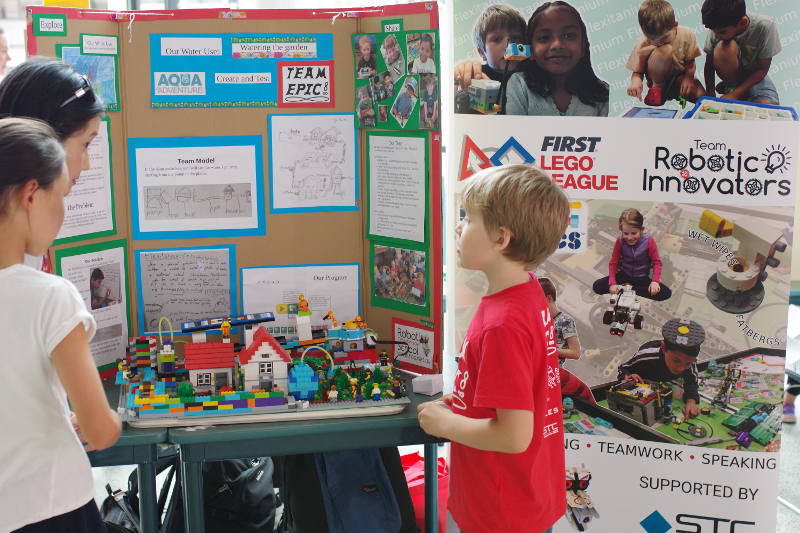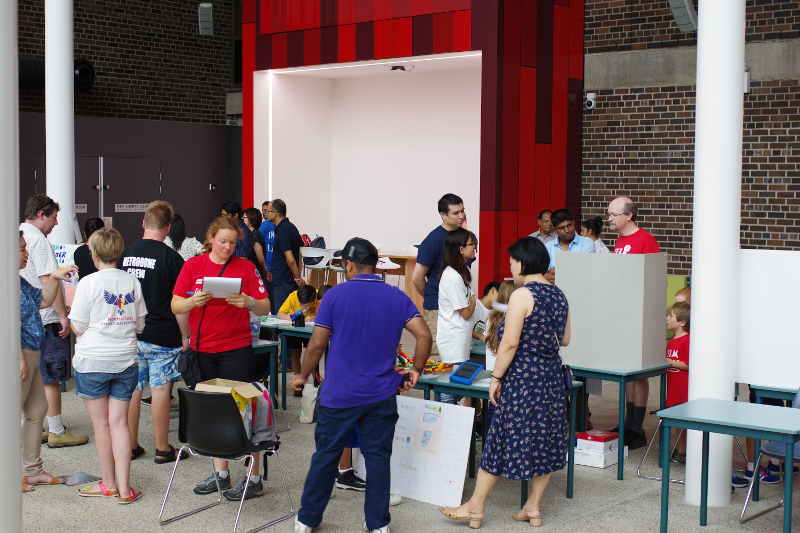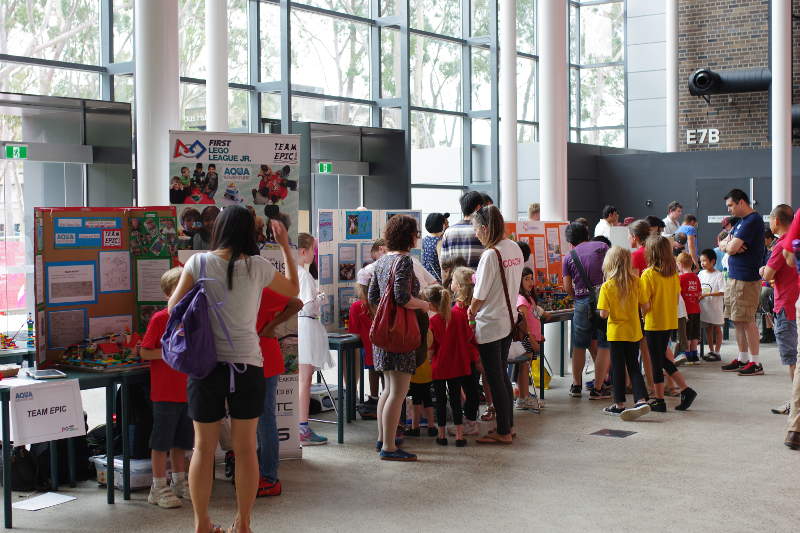 Team Epic won the Hole-in-One Award! What a proud moment!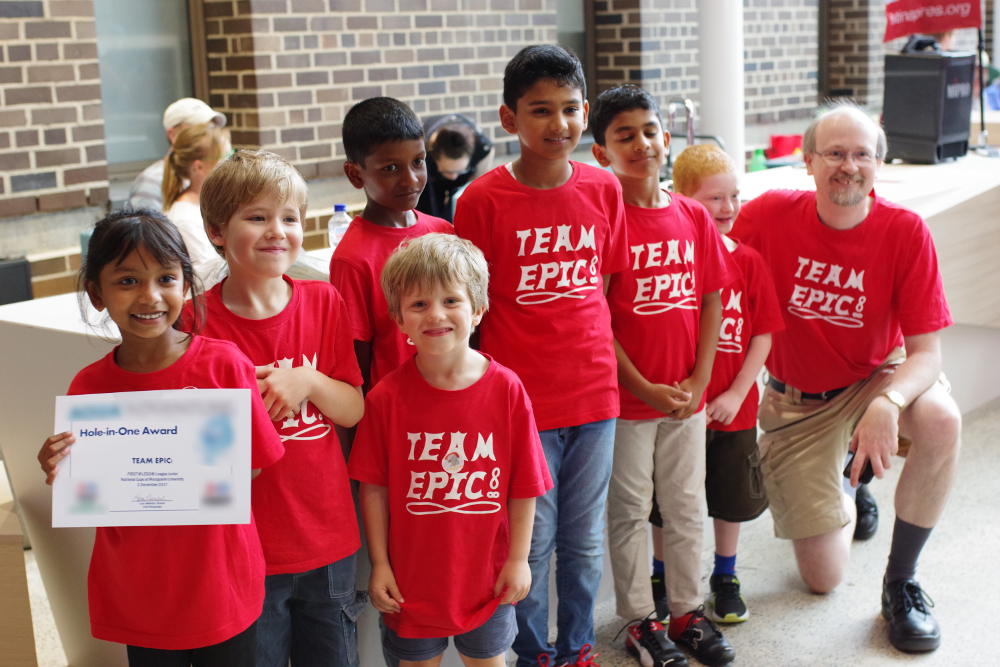 Thanks
Thanks are due to several contributors who made this season such a great adventure for Team Epic in 2017:
Oliver Stanley assisted as a mentor.
Lea Neal taught many of the classes and those she didn't teach, she assisted with.
Tammy Stanley helped to type up assemble the Show Me poster.
All the parents for being so patient when we couldn't get the kids out on time!
All the students in Team Epic for the fantastic effort they put in to get such a great result!
Jasmin Hilleard at Thales Australia for sponsoring Robot Obedience School and providing the fabulous team shirts. Thales employ many engineers, and are keen get the next generation interested in STEM career paths!

Vinodh Natarajan at Solutions Telecommunications Consulting provided one complete set of WeDo 2.0, tablet and Inspire kit. Awesome!

How to Get Involved
Get your child involved in our awesome Robotic Minivators program!
Details

Written by

Robot Obedience School

Category: Robotic Minivators


Ages 6-9 years old
Super Fun Introduction to Science and Engineering for Young Kids!
"Robotic Minivators" invites children aged 6-9 to explore science and engineering for themselves, through fun and interactive team activities! Children explore science topics in the world around them through hands-on building activities and a small research project. Teamwork values the contribution made by each individual. Team members respect each other and other teams at all times, and teams always have FUN! "Robotic Minivators" is not a competition - it is a learning journey.
Our first "Robotic Minivators" team had so much fun in with this program in 2017 that we could hardly send them home after every meeting. This program will be available in Semester 2 2018.
Challenge
Each year a new challenge is set. "Robotic Minivators" teams begin by learning about teamwork. Team members then learn about the season topic, and regularly build models to explain their ideas to others. Teams will produce a large model and a poster illustrating what they have learned by the end of the season.
After meeting together for a season, teams attend an expo to display their work and tell others about what they learned!
2018 Season
In semester 2 Robot Obedience School will be offering a moon themed season for "Robotic Minivators".
Equipment Used
In Robotic Minivators, we use studded bricks, with some gears, axles and pins. This system is largely familiar to children who build with plastic blocks already.
The system is programmed from a tablet using a simple graphical programming language, which has been designed to suit beginners. Students get excited when their programs make the robot move - this is a big advantage to using robotics to teach coding!
No Prior Experience Required
Students do not require prior experience in robotics or programming to join "Robotic Minivators".
The programs are created using a tablet. Children figure out how to use these very quickly. Lessons are conducted in English.
Team Work
"Robotic Minivators" emphasises getting the students to work together as a team. The team decides on their own team name, designs their own team logo, and decides what problem they will explore, in accordance with the theme of the season.
Teams explore and share their ideas with the rest of their team by building models using plastic bricks. Teams make decisions using a voting process.
We use several team building methods to strengthen team identity and cohesion. Each member of the team is expected to contribute, and to encourage other team members. These soft-skills are a significant outcome of the course.
How to Get Involved
Robot Obedience School is offering "Robotic Minivators" during semester 2 2018, from August to December. We will meet on Saturday mornings during school term.
Meeting Schedule (tentative)
This schedule is two lessons short. We will have to squeeze in an extra lesson somehow. We may negotiate to do two lessons during the holidays, or we may be able to squeeze slightly more than one lesson into the existing slots.
| | | | |
| --- | --- | --- | --- |
| Date | Lessons | Times | Notes |
|   |   |   | Kits to arrive mid-August |
| Sat 18 Aug 2018 | L1 | 9am-12pm with break |   |
| Sat 25 Aug 2018 | L2 | 9am-12pm with break |   |
| Sat 1 Sept 2018 | L3 | 9am-12pm with break |   |
| Sat 8 Sept 2018 | L4 | 9am-12pm with break |   |
| Sat 15 Sept 2018 | L5 | 9am-12pm with break |   |
| Sat 22 Sept 2018 | L6 | 9am-12pm with break |   |
| Sat 29 Sept 2018 | L7 | 9am-12pm with break | School Holidays |
| ??? | L8 | 9am-12pm with break | School Holidays |
| ??? | L9 | 9am-12pm with break | School Holidays |
| Sat 13 Oct 2018 | L10 | 9am-12pm with break | School Holidays |
| Sat 20 Oct 2018 | L11 | 9am-12pm with break |   |
| Sat 27 Oct 2018 | L12 | 9am-12pm with break |   |
| Sat 3 Nov 2018 |   | 9:30am-12pm | Expo at Macquarie University |
| Sat 10 Nov 2018 |   | 9am-12pm | End of Season Party!!! |
The meetings are in Pendle Hill. The address will be provided on registration.
Teams consist of 2-6 students aged 6-9 years old.
$250 to participate for the whole season offered in second semester 2018.
To participate in Robotic Minivators, please contact us for a registration form.
Satisfaction Guarantee
If you are unhappy with our programme for any reason, please let us know. We will refund your full fees up to two lessons in to the course. After that, a pro-rata refund applies. Buy with confidence!