Details

Written by

Robot Obedience School

Category: Uncategorised

Team Robotic Innovators is a group of 6 kids aged 9-13yo competing in a robotics competition. This year the theme was about the human water cycle. Some of the team's younger siblings also participated in Team Epic! These activities are run by Robot Obedience School. Ben Stanley coaches both teams, along with several other coaches and mentors.

Teams have two months to develop their teamwork, prepare a research project, and build and program an autonomous LEGO robot to play the robot game (complete various "missions" to score points within a 2½ minute timeframe). Then teams attend a tournament to compete.
The Robotic Innovators learned a lot about teamwork this season by playing problem-solving games together. The exercise that they learned the most from was writing a word using the pictured rope contraption. At the tournament their teamwork was judged using a new problem, and they calmly and logically worked together to solve it.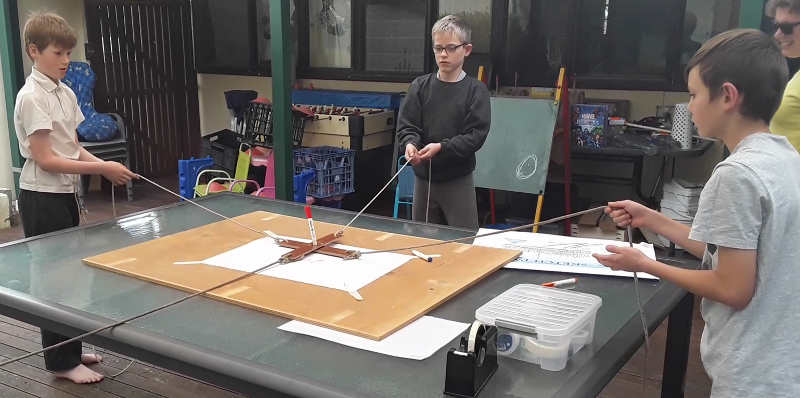 Team Robotic Innovators prepared their project on "flushable" Wet Wipes. They researched how well wet wipes break down when they are agitated, and found that they don't disintegrate as well as toilet paper. When wet wipes are flushed down the toilet, they can cause fatbergs that block pipes. The team created a survey to measure people's attitudes towards wet wipes. The team learned that most people know that they shouldn't be flushing their wet wipes, but they don't care about the consequences. The team created a flyer to help people to understand why they should not flush wet wipes. They got out of their comfort zones and shared their findings with the crowds at the Toongabbie West Public School Halloween Carnival (and even collected a few more survey responses). One adult was heard to say, "Children, you have educated me!"
The robot game requires teams to build a LEGO robot to perform missions autonomously on a table. Team Robotic Innovators built a solid modular robot this year. Time is of the essence during matches, so they devised an attachment system for quick fitting and fast removal. The robot team did a lot of work building fabulous attachments to perform missions. Late in the season, they started programming their robot to drive from base to the mission models only to discover that their robot couldn't drive straight! The robot could only attempt missions near base, as long distance navigation would always go off-course. Even worse, the night before the tournament, during software integration, one of the mission programs was deleted! However, the team did not give up, and the program was re-created from scratch. (The coach might grumble about "late integration", but this is a team of children we are dealing with. Nothing motivates like an impending deadline!)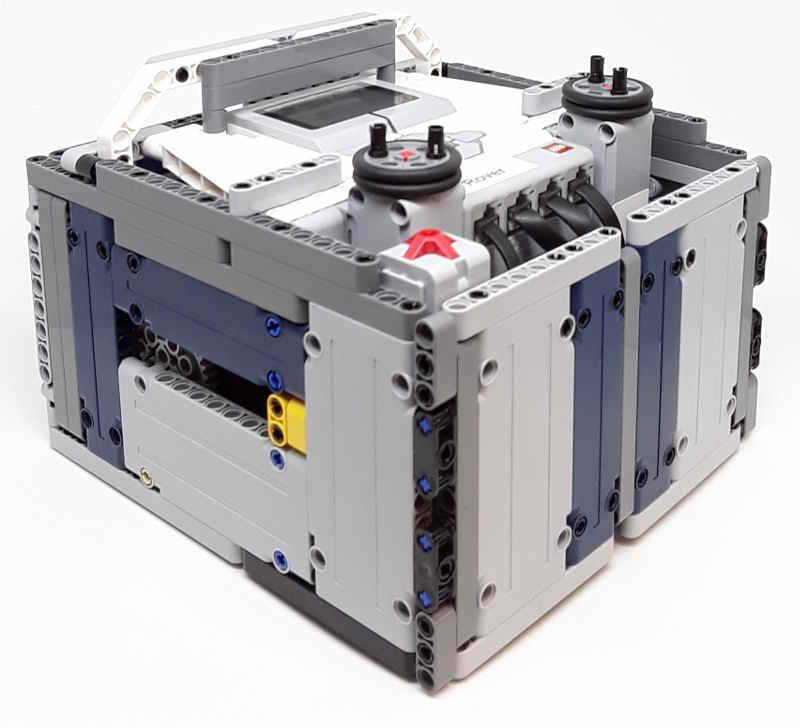 At the tournament, Team Robotic Innovators had the privilege of going up against one of the top teams in Australia – Project Bucephalus from Wollongong. Not everything went Project Bucephalus' way, but they still scored 250 points versus Team Robotic Innovators' 55 points. Our team demonstrated an excellent understanding of the rules of the game when their robot smashed one of the mission models while scoring some points. At the end of the three rounds, Team Robotic Innovators placed 12th out of 27 teams in the robot game. Project Bucephalus topped the robot game and won the Champions Award for best all round teamwork, project and robot game. Congratulations Project Bucephalus!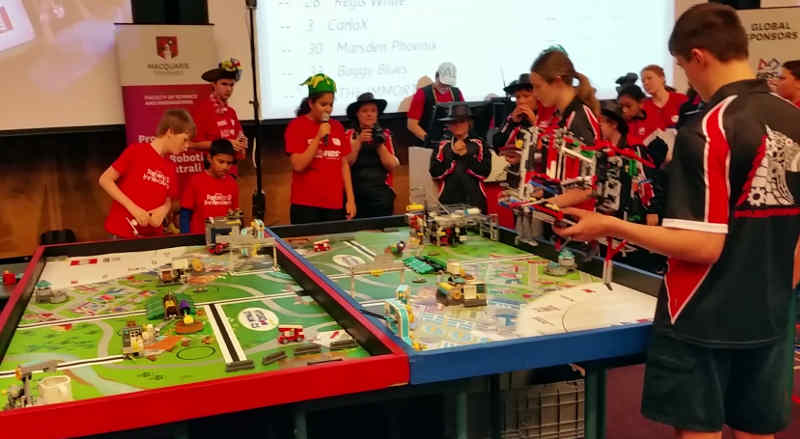 The coach is very proud of Team Robotic Innovators' achievements this year. Each student has been challenged, and made a contribution to the team's achievements. Many lessons were learned the hard way, but the team has grown from these experiences and will be back next year ready to tackle new challenges. I look forward to seeing great things from these kids in the future.
Robot Obedience School will be starting their preparations for the 2018 season in February 2018. Please contact us to be part of it! www.ros.net.au/robotic-innovators
Robot Obedience School would like to thank Thales for their support in 2017-2018.

Details

Written by

Robot Obedience School

Category: Uncategorised

At Robot Obedience School, we let students find out for themselves how much fun Science, Technology, Engineering and Mathematics (STEM) really are! We make robots and program them, and use them to solve problems! And the students surprise themselves with how much fun they have doing it!
Teaching kids to build and program robots since 2014
We have four progressive programs:
 

A gentle introduction to science and robotics for younger children aged 6-9 years old.

Learn to program robots from the beginning!

Runs during school holidays and on weekends as required

Ages 8 and up.


Practise robot building and programming skills through fun challenges!

Meets weekly during school term Feb-July.

Science and Robotics program for students aged 9-16, August-November annually.
School incursions are also possible. Please contact us for more information.
We look forward to getting your kids into developing their own technology, instead of just consuming other peoples' technology!

  Please follow us on Facebook to be informed of upcoming RoboCamps and other events!
Details

Written by

Joomla

Category: Uncategorised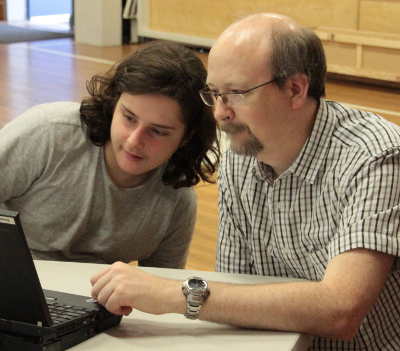 Robot Obedience School was created to get children interested in programming, using robots as a motivational tool.
The school is run by Dr Ben Stanley, who has a PhD in Ultrasonic Sensing for Mobile Robots, studying at the University of Wollongong and the University of Tsukuba, in Japan. In a previous life, Ben worked as an explainer at the Questacon in Canberra. Ben has also lectured software engineering at UoW. Dr Stanley is currently employed as a programmer and analyst.
We have a Working with Children number.
ABN: 25227844227
Details

Written by

Robot Obedience School

Category: Uncategorised
In 2016 Team Fins, Feathers and Fur entered the FIRST® Lego® League.
They competed at the Macquarie University Regional 2 tournament and won the Robot Performance Award. Full Story