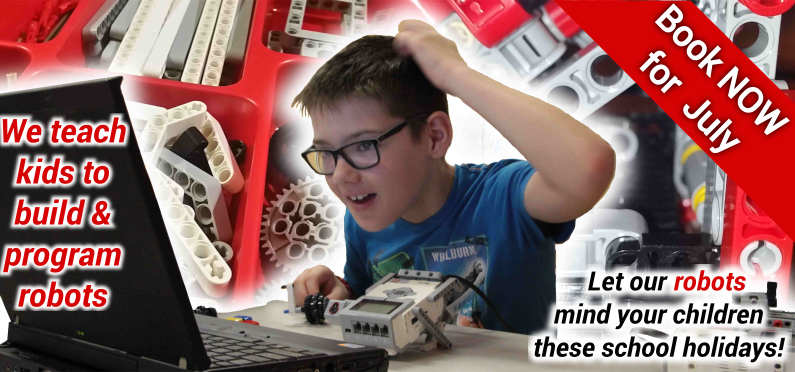 At Robot Obedience School, students tame rogue robots, turning them into obedient robots, and we have great fun doing it!
Our students teach their robots to be obedient by drawing diagrams that form graphical programs. Programs are the foundation of the modern world, and are a crucially important skill for the next generation of innovators that our nation needs.
Children in school years 4-8 are welcome.

Our RoboCamp has three levels:
Beginners - for those new to Lego Robots.
Building - practise building using the Lego Technic system, learning tips from the professionals.
Robot Rumble in the Round - Robot Sumo!
Beginners

In the beginners section, we start with pre-built LEGO® Mindstorms® robots to get students having fun quickly. Students learn to program quickly in the EV3-G graphical programming language. We may do things like
Bump around the floor
Follow lines on the floor
Play tunes
Solve mazes
Robot platooning

Building
Students who know the basics of programming from the Beginners section, and wish to master the art of making their own robots, first need to learn how to build with modern LEGO® Technic® sets. In this section students are assigned a kit of parts, and follow instructions to build their own robots.
Students gain experience with the modern LEGO® Technic® building, and once they have built their robot, they must program it in EV3-G to make it behave obediently.
Students learn about mechanical building styles in LEGO® Technic®, and gear trains and gear reductions.
Students learn that robots built to look like Dr Seuss' drawings don't actually stand up - structural integrity is very important. We talk about the number of degrees of freedom of a mechanism. We learn that using triangles make things stronger. Gear trains must be designed with the correct gear ratios. There must be ways to initialise the position of moving parts.
The building course runs for 2 days. Those who wish to attend Robot Rumble in the Round will be motivated to build the best Sumo robot they can in the building course.

Robot Rumble in the Round

Can you program your robot to find the other robot and push it out of the circle, without being pushed out of the circle itself? What attachments will you build on to your robot to give it the upper hand over its opponent? Robot Rumble in the Round calls for lots of imagination, robot designing and building, and programs created by the students themselves! Some fabulous ideas emerge while the students hunker down and get their robots ready to rumble...
Robot Rumblers are invited to attend the building course for the two days before so that they have all the skills they need to give their robots the strength and agility they need to get the upper hand in the robot rumble...

We also have a FIRST Lego League program, which is designed to expose children to future careers in Engineering, and get kids really thinking for themselves.
Who can come?
Children in school years 4-9 are welcome.
Adults are also welcome, either as helpers of a paying student (no kit for the adult, free admittance), or in their own right as an adult fee-paying student, having robot kit and computer provided.
Previous Schools
There have been previous Robot Obedience Schools.
Flyers
If you would like to help promote Robot Obedience School, get our Flyers Here.
Trademarks
 LEGO®, Mindstorms® and Technic® all belong to the LEGO Group.